We have assisted several communities and counties in New York State, Pennsylvania and Virginia with economic development planning.  A summary of selected economic development projects is available here.  We aided Sullivan County, New York, for example, with the assembly of an Economic Development Strategy in 1997 that was closely followed to bring forth millions of dollars in State aid for projects. Wayne County, Pennsylvania and Columbia County, New York have also received our help in developing county-wide economic development strategies. We prepared a Downtown Market Study and Strategic Work Plan for the revitalization of Main Street, Honesdale and also Owego, New York. The Honesdale study included the documentation of marketable competitive advantages that are concisely summarized in a list of reasons Why You Should Locate Your Business in Downtown Honesdale.  The full report is also available.  We too worked with the City of Oil City, Pennsylvania to develop a very successful downtown development strategy focused on the arts.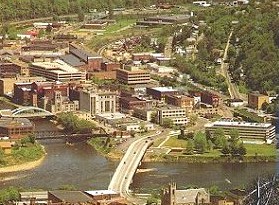 We have, as well, assisted with the preparation of agricultural economic development plans for Broome, Delaware, Fulton, Greene, Sullivan, Schoharie, Schuyler, Steuben, St. Lawrence and Yates Counties, New York. An important element of those projects was the documentation of the importance of agriculture to the economies of these areas. We've also worked as part of a team of consultants to advise Wyoming County, New York on agricultural economic development matters and worked with the Town of Brant to develop an agricultural viability program. See Agriculture for more information on our agriculture related experience in general.
We regularly work with Industrial Development Agencies in both New York and Pennsylvania. This work has included benefit/cost analyses, environmental assessments, packaging of applications for financial assistance and help with zoning problems. We've been involved in projects in Ulster County, Buffalo (Erie County), Pike County, Sullivan County and numerous other locations. We also assisted the firm of Hamilton, Rabinovitz and Alschuler and the Catskill Watershed Corporation in developing a 5-county strategy for use of $60,000,000 in New York City funds provided for economic development of the region. Our firm acted as consultant on agricultural, forestry and mining issues for this massive study. We also worked with representatives of the Sullivan-Wawarsing Rural Economic Area Partnership to develop a Strategic Plan for economic development.